The ICIWorld Internet Security and Protection Page
A public service for the real estate industry and people world wide.
"Essential reading for everyone who uses the Internet."
Canada's New Anti Spam Legislation
Many guidelines on what to do with spam and suspect and fraudulent EMail.
In Canada alone, Canadians report up to 500 cases of fraud of all kinds every day.
Canadian Anti-Fraud Centre
Microsoft Safety and Security Centre
AARP articles on Scams and Fraud
With simple knowledge you can protect yourself and others against problems of using the Internet.
Thank you to all who have contributed to this page. We appreciate your suggestions. If you have a link that you feel can benefit the industry, please let us know and we will place it on this page. EMail
Internet surpasses TV-watching time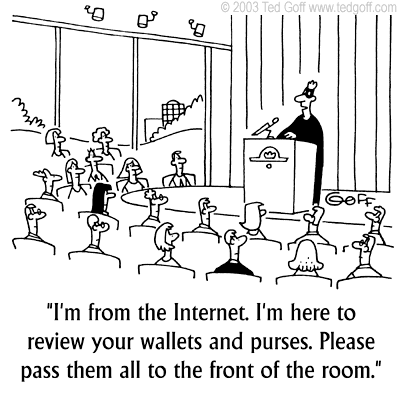 The Internet is the most amazing marketing and communication medium known to man. However in order to use it in a competent, professional and a safe manner there are some things everyone in the world must be aware of or you can get into serious problems.
When someone gets their first license to drive a car, would it not be dangerous to immediately go out onto a fast moving highway without any training? One can immediately get into a dangerous accident.
The same is true on the Internet. In this case their are thieves waiting to take advantage of your lack of knowledge of the Internet. This is the information highway and much like learning to drive a car on a highway to avoid accidents you also must learn to avoid falling into traps which are problems on the Internet.
This page is a public service to the real estate industry and the public world wide to teach you to be careful. While is not comprehensive list, if you read and explore this page and the links on it, you will be become wiser to the pitfalls of being naive or too trusting of the people you meet through the Internet.
ICIWorld provides a this page as a public service education page about these problems as it relates to the Internet and you can provide this link as a public service on your web site. Everyone who uses the Internet should set several hours time aside for this education.
Just because you receive something in an EMail or from the Internet does not make it valid.

In many cases people are duped in to believing something because of hope to gain something miraculous. Or one is simply tricked in to believing that an email came from their bank when really it was a trick by someone trying to get your log in details to defraud you.
There is information on this page from Microsoft, banks, police organizations, investigative TV programs and more.
This page is a public service for the real estate industry.
"Essential reading for everyone who uses the Internet."
Otherwise you are at risk.
If you have links or articles to add to this body of knowledge you can EMail or contact us.
Also see Travel and Health and Security
Another reason to have this page is to educate you about scammers posing as legitimate charities. For example the following can happen any and everywhere in the world. Here is an article in a Canadian newspaper article in the Toronto Star January 15, 2010 that applies no matter where in the world you are located:
"It took only about 24 hours before scammers were churning out emails exploiting the disaster (in Haiti), security experts said Thursday.
Most of the spam emails are masquerading as legitimate pleas for donations from aid groups, said Dylan Morrs, spokesman for security software maker Symantec. Most of the messages are unsophisticated and usually involve requests to send personal information to an email address or fax number.
The Department of Foreign Affairs and International Trade has compiled a guide to help the public avoid scams and ensure their donations are of maximum value. It can be found online at www.international.gc.ca
The Better Business Bureau recommends the public consult the Canadian Revenue Agency's list of registered charities and relief organizations at www.cra.gc.ca/donors."
---
---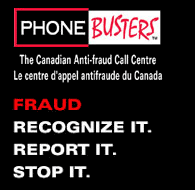 More than 1,000 Canadians a month contact PhoneBusters after being victimized by identity theft, and through June 30 of this year 2009, almost 6,700 complained they'd lost about $5.2 million. See article in newspaper.
Established in January of 1993, PhoneBusters is the Canadian Anti-Fraud Call Centre managed on a tripartite basis by the Ontario Provincial Police, the Royal Canadian Mounted Police (RCMP) and the Competition Bureau Canada. PhoneBusters plays a key role in educating the public about specific fraudulent telemarketing pitches. Their mandate now also includes facilitating prosecution by United States agencies through extradition, and by the Competition Bureau under the Competition Act.
---
Burlington: Canada's riskiest online city
---
OTTAWA–Canada has become a haven for credit card fraudsters because of this country's patchwork of policing and enforcement, says the head of the Canadian Bankers Association. Article Toronto Star
Identity theft has been on the rise along with new technologies and now costs Canadians an estimated $2 billion annually.
---
Katie Couric TV Program Protectiing Yourself From Fraud: Tips From Experts.
Have you ever lost money in a scam. Millions of Americans get scammed and billions of dollars are lost to fraud every year.
Phantom Debt Collectors From India Harass Americans, Demand Money
Costa Rica Cracks Down on Alleged Telephone Scammers The raids represented a new front in the effort to cripple the potent phone scams, which were initially organized by Americans and Canadians living in Costa Rica, but have since blossomed into what authorities believe is an extensive crime ring populated by both Westerners and Costa Rican citizens. Last October, ABC News reported on a scam exploiting the good name of the Make-A-Wish Foundation that has siphoned more than $20 million from unsuspecting Americans and tracked down two fugitives who had been hiding in Costa Rica.
---
Spotting a fraud: 7 signs of a scam From Microsoft. Microsoft Online Safety
---
Cracking down on text scams (short commercial before you hear the report)
---
Court says no tax break in scam loss Securities dealer unable to claim $340,000 U.S. from advance-fee fraud Details.
---
Affinity Fraud Affinity fraud is one of the big forms of fraud being perpetrated today - big because it is becoming more common and because it involves groups of people, most notably new immigrants, religious and minority groups, and social clubs.
---
How about a free laptop? Family, friends, colleagues may send you an EMail with good intentions. There is one circulating about receiving a free laptop from Ericsson. It is pretty official looking. Click here to see more hoaxes.
Hello all, this may interest you.
Subject: Sony Ericsson Promotion
Ericsson T18 & R320 laptop promotion
One way to check out if it is a hoax is to copy something from the EMail like Ericsson T18 & R320 laptop promotion and then copy this into google and search.
You will see a number of reports that it is a hoax
All in a day on the Internet. Remember it is like driving a car, you can get into an accident at any time.
Use this example as a learning lesson, a benefit of how to be careful in using the Internet. One way is to search google using some text or small sentence from the email.
Are these fraudsters going away? Nope. They seem to be getting smarter and smarter.
---
We recommend you circulate a link to this page to everyone you know.
Add this link http://www.iciworld.com/news.shtml as a resource link on YOUR web site. We suggest you frame it within your web site.

It will educate people and make the Internet work better for everyone.
This is not a page you will read in a few minutes. It will take perhaps several hours to benefit. May we suggest you make several appointments with yourself to read this page.
If you use computers and the Internet, you should read the following.

Everyone on the Internet and will either be approached at one time or another through email with Nigerian frauds, spam, viruses, etc. People can be approached through regular snail mail with frauds, identity theft schemes, and more. You can protect yourself and others through the knowledge gained through the links on this page.
Everyone will get a virus at one time or another.
---
See what banks, credit bureaus, credit card companies, National TV Network Programs, FBI, RCMP, and many other consumer and government bodies have to say.
---
Like Social Networking? Be Careful What You Share
---
Digital Doomsday: America is not cyber safe A You Tube Video. Michael Chertoff and other former US Government Leaders take part in a simulated cyber attack.
From the phone in your pocket to the military's most sophisticated weapons system, cyber espionage and computer hacking represent an economic and national security threat to every American. See presentation by The Bipartisan Policy Center.
---
Here is a link to Microsoft and what they say. You will find further links that are a major resource to help combat crime, protect yourself against fraud, best practices to protect your privacy online and much more.
If you receive an e-mail offer that sounds too good to be true, it probably is. Urban legends and hoaxes have been around for centuries, but their popularity is on the rise because the Internet makes it easy to spread fraud e-mails.
Many e-mail hoaxes will trick you into forwarding messages about fake viruses or other fabricated stories. These e-mails waste time, clog inboxes, and might cause embarrassment when they're proven untrue. But there are other, more insidious types of fraud that might end up costing you a lot of money. . . . more.
Make yourself aware of these problems and you can easily avoid dealing with these people.
The Internet is the most powerful communication medium known to man. However it has what I call "the good, the bad, and the ugly. "
You will see among the most real estate transactions on ICIWorld going on in the marketplace. See testimonials. It is the Internet and ICIWorld programs that help people connect to do deals. When you think there are 1.5 billion people using the Internet and anyone can see the information on ICIWorld and connect with others it is rather amazing. That is the good.
If you do not have an up to date paid for software protection plan you will get into problems. I did not say you might get into problems. You probably will get into problems.
---
Along with the good, however there can be problems with viruses on your computer.
Here is a basic video on security for a windows vista computer. The concept is the same for other types of computers.
Windows XP Security Software Providers Microsoft recommends that you install security software to help protect your computer from viruses and other security threats, and that you keep your security software up to date.
We suggest virus protection programs such as provided by Norton, McAfee.
Your own Internet Service Provider may provide free protection software and there are others. Ask them and your computer advisors what they recommend.
If you do not have an oil change for your car, will your car operate properly. Virus protection programs help to keep your computer protected.

Along with the good, there can be problems with fraud. We suggest you be aware of this and report these and/or ignore it to avoid problems.
The following is a public service to the real estate industry. Links contain:
This is not confined to the Internet. There is mail fraud, credit card fraud, identity theft and more.
Scam Watch: Counterfeit Money/Counterfeit Cops
By simply being aware of these potential problems you can easily avoid problems.
Our members and readers are then informed better than the average person and can help others throughout the world to be aware and protect themselves.
---
Tips to protect your identity, password dos and don'ts, fraud statistics and more.
What are the top frauds? 10 ways to protect your ID. What to look for in a shredder. Password
---
Pay Pal recommends choose a secure password to protect account information:

Many people use passwords for online stores that could be guessed, like their birthday, Social Security Number or a family member's name. Instead, a password should contain a combination of upper and lower case letters and numbers and symbols that no one else will know.
---
Password Test

Take the Password Test
---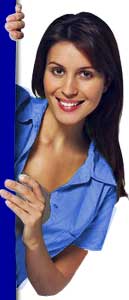 How to Spot and Avoid a Scareware or ID Theft Protection Scam
Are you frustrated and overwhelmed by of all of the scams, spam and other junk you see every day on the Internet and in your email box? Do you wish you had a way to know -- for sure -- what's real and what's not? If so, you've come to the right place.

See www.scambusters.org You can subscribe to receive their newsletters.
This is a a public service website and email newsletter that has helped over 11 million people protect themselves from Internet scams, identity theft and spam since 1994. That also happens to be the same year that ICIWorld started on the Internet as the first real estate Have and Want information service.
Scam Check Station Curious whether or not it's a scam? Find out at the Internet ScamBusters Scam Check Station...
---
---
---
How your suitcase or handbag can be gone in a flash. Booster Bag Scam
Tricks hackers' use you probably never heard about!

Looks like cybercriminals have turned social networking into a minefield of threats where one wrong move may have very serious consequences. Long gone are the days when you could avoid being scammed simply by using antivirus software. The more aware we are the harder bad guys are working on fooling us. And let me tell you, their techniques are getting more and more sophisticated! Have a look at some examples of the latest cyber criminals' creations and how to avoid them.

Koobface

(social networking worm). It gains access to Facebook profile pages and directs you to view a video that then encourages you to update your Flash player. Malicious files such as flash_update.exe and bloivar29.exe are being downloaded and installed which results in a range of visible problems, including modifications to your Facebook profile, with the immediate result being an error message to contact support. There is also the very real potential for your identity and finances to be compromised!

Picture files carrying malware are "planted" on social networking websites and instant messaging programs. Hackers try to convince you that your friend has sent you a message or IM to view pictures. Legitimate looking URL when clicked on sends you to an illegitimate website hosting malicious files and executables, which have been modified to appear to be genuine picture files (jpg, gif or bmp). When you download and open those "pictures"; the malware unknowingly runs on your computer. It allows hacker to take control over your operating system as well as the information in it and exposes you to identity fraud and financial loss!

I posted an ad for a laptop computer for sale. Got an email from Africa says "agreed to price and will send an extra 250 by paypal. Ship it to me. Paypal is safe." Here is what they say:
---

EBay I know of one broker who told me he bought, sold items on ebay successfully. He then sold his car but in this case he never got paid. Here is what Ebay says about protecting your account.
---
Craiglist You can sidestep would-be scammers by following these common-sense rules http://www.craigslist.org/about/scams
The overwhelming majority of craigslist users are trustworthy and well-intentioned.
With billions of human interactions facilitated through craigslist, the incidence of violent crime has been extremely low.
Nevertheless, it's very important to take the same common sense precautions online as you would offline.
http://www.craigslist.org/about/safety
---
Another EBay help notice to help you protect yourself and others.

Tutorial Spoof (Fake) EMails
---
All people in the world conducting business must be aware of the problems that we have compiled on this page in order to avoid becoming a victim of Internet and other fraud schemes.
This is for you and you can pass it on to help protect others.
Be forever vigilant. The Internet presents the best communication since the beginning of mankind. It is however being misused by unscrupulous people. Learn about the problems and you can easily avoid the problems.
It is like driving a car. You have be careful to avoid accidents. The same is true on the Internet. You can avoid fraudulent situations by being aware of them.
Some articles on this page may be dated but are relevant and apply to this day.
Don't expose yourself to problems of using the Internet.

Everyone in the world should read this page to help protect yourself and others against serious problems that can and are happening.
Everyone may link to this page. It is a public service from ICIWorld
---
If you think an e-mail you received is a scam, one place to check is the Urban Legends Reference Pages list of examples. However, these scams can come in thousands of different forms.
Here are seven more telltale signs of a scam:
| | |
| --- | --- |
| 1. | You don't know the person who has sent you the message. |
| 2. | You are promised untold sums of money for little or no effort on your part. |
| 3. | You are asked to provide money up front for questionable activities, a processing fee, or to pay the cost of expediting the process. |
| 4. | You are asked to provide your bank account number or other personal financial information, even if the sender offers to deposit money into it. |
| 5. | The request contains a sense of urgency. |
| 6. | The sender repeatedly requests confidentiality. |
| 7. | The sender offers to send you photocopies of government certificates, banking information, or other "evidence" that their activity is legitimate (these are fake). |
Here is some good news of someone being caught. It also gives you an insight to how these things happen.
Yahoo tips spam protection, anti-virus, phishing prevention.
Stop Spam in its tracks.